Die-Cut Products and Materials for Various Applications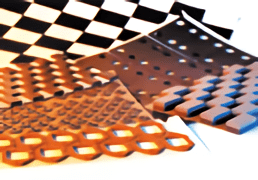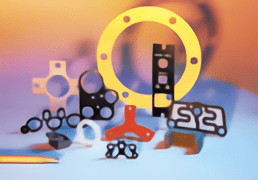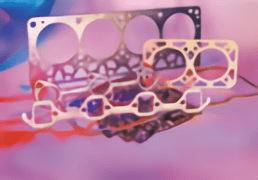 Champion Gasket has forty years of experience in die-cutting flat gaskets for a litany of OEM and aftermarket applications.
Intake Manifold Gaskets
Oil Pan Gaskets
Fuel Pump Gaskets
Water Outlet Gaskets
Exhaust Manifold Gaskets
Valve Cover Gaskets
Air Cleaner Gaskets
Carburetor Gaskets
Flat Rubber Gaskets
Foam Gaskets
EMI/RFI Shielding Gaskets
Compressed Fiber Gaskets
Flat Full-Face and Ring Flange Gaskets
Cover Gaskets
Enclosure Gaskets
Washers
Champion Gasket can die-cut custom shims and spacers to meet your specific requirements.
Plastic shims and shim sets
Flat plastic retainers
Plastic Washers
Plastic Bumpers
Flat Covers
Champion Gasket die-cuts thousands of custom pad shapes to meet the many specific needs of our broad customer base. Pads can be supplied kiss-cut onto a peel-and-stick paper backing for ease of assembly.
Ant-rattle pads
Shock absorbing pads
Sound insulation pads
NVH pads
BSR pads
Gap pads for thermal insulation of electronics
Mounting tape pads
Champion Gasket has the expertise to assist customers in the design and manufacture of flat, custom die-cut seals
Dust and moisture seals
Stripping
Wicking seals
Die-cut fuel and oil seals
Mult-stage sub-assemblies
Hard/soft board parts
Cut & bond parts
Materials That Can Be Die-cut to Specification
Champion Gasket carries a complete line of paper products meeting the requirements of ASTM F-104.
Compressed Aramid Fiber
Non-asbestos paper
Beater-add
Treated vegetable fiber
Vulcanized fiber (Fish Paper)
Champion converts many different plastic sheet and roll goods to finished product.
Polycarbonate (Lexan)
Polyester (Mylar)
Polypropylene co-polymer
Low Density Polyethylene (LDPE)
High Density Polyethylene (HDPE)
Ultra High Molecular Weight Polyethylene (UHMW)
Vinyl
Styrene
Nomex
Gore (Kevlar)
Nylon
Delrin
Teflon (PTFE)
Phenolic
Champion Gasket inventories and converts a complete line of foam, sponge and sponge rubber that can be die-cut to your specifications. We are able to match your ASTM D 1056 Callout to the proper product for your application. From the softest open cell or slow recovery foams, to dense barrier foams, Champion Gasket has the expertise to fabricate your part to specification. All of our foams and sponges can be laminated to a variety of adhesive backings.
Open Cell Foam: Polyester and Polyether based urethane foams ranging from 1.2 to 12 lbs. per cubic foot. These foams are economical, easy to cut, and are ideal for dust/moisture sealing, thermal and acoustic insulation, filtration, HVAC, Automotive BSR or NVH, etc.
Microcellular Urethane Poron Foam: Champion Gasket is a Rogers Corporation preferred converter. We stock, convert, distribute, and-die-cut most of the Poron line that Rogers offers. Poron's excellent shock absorbing and compression set resistance characteristics make it an excellent material choice for thermal and acoustic insulation, sealing, gaskets, low compression set applications, automotive BSR or NVH, electronics sealing, and isolation, etc.
Closed Cell Foam/Sponge Rubber: Champion Gasket is ready to die-cut the closed cell foam product that you need. Armacell SCE41, SCE42, SCE43, SCE45, Neoprene blend foams. RE41, RE42, RE43, EPDM Blend foams. Pure EPDM Sponge. SBE41, SBE42, SBE43 Nitrile or ECH Sponge. Ensolite Line: IV1, IV2, IV3, XI42, MLC, SCC, SSC, Vinyl-Nitrile Foams.
Collapsed (Crushed) Cell EPDM and PVN foam
We have an extensive inventory of calendared sheet rubber that can be die-cut to your specification. Whatever the ASTM D 2000 callout, or suffix, has over 40 years of rubber expertise to help you select the proper elastomer and die-cut it to specification. Champion can convert Durometers from 20A to 90A, in a wide range of elastomers. All of our solid rubber materials are available with a wide variety of adhesive backings, or other laminates.
Natural Rubber
SBR: Good for low pressure water or moisture sealing with little or no UV or ozone
Neoprene: Good chemical stability, flexibility over a wide temperature range, low oil swell
Nitrile (BUNA-N): Generally resistant to oil, fuel, and other chemicals
EPDM: Heat, ozone and weather resistance
Silicone: Extreme temperature and environment resistance
Viton: Excellent chemical resistance, Excellent Temperature resistance
Santoprene
Hypalon
TPE
Urethane
Vinyl
Fabric reinforced rubber
We are an approved fabricator of the most well known cork and cork/rubber sheet producers in the world. We are currently producing die-cut parts from scores of different cork blends.
Pure cork sheet
Cork/Neoprene and Nitrile
M Series high performance cork/rubber (AMS-C-6183).
Silicone/Cork for high temperature applications
Hypalon/Cork
Most of our materials can be laminated to a double-coated or transfer film adhesive to fit your bonding requirements. Champion offers tapes ranging from low tack to very high bond and everything in between. We carry products from most of the major tape manufacturers including 3M, Adchem, CCT, Mactac, and others.
Champion has the capability to kiss cut our materials onto almost any adhesive tape allowing maximum line efficiency for our customers.
Champion Gasket converts a variety of woven and non-woven fabrics with and without adhesive backing.
Polyester felt
Acrylic felt
Wool felt
Flocked fabric
Polypropylene carpet
Polyester carpet